WHAT WE DO...
We Specialize In Slide Scanning - Included With Every Slide Order...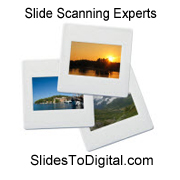 No Memberships or Setup Fees Charged
No Confusing Sliding Scale Pricing
No Upfront Deposit Required
No Extra or Surprise Charges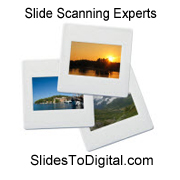 Frequently Asked Questions
Q? Do I need to pay a deposit?
A.  No, please package your slides and send them to us. Your completed order will be returned to you with an invoice. After you have reviewed your slides and are completely satisfied you can choose either the credit or cash options available.
Q? What about the "Only pay for the scans you keep" pricing policy?
A.  Our everyday price of 31 cents per slide for any size order is the lowest price per slide in the industry. Beware, pricing by other services are often marketing gimmicks designed to confuse customers with sliding scales and add on expenses. We really do like to keeping pricing simple, only 31 cents per slide and nothing more.  The process is simple for our customers.
Q? Will my images be available online?
A.  The safety of your slides and identity is our first concern. We have evaluated online access to images and have great concerns. Your pictures will always be are posted to a third party vendor on the internet. It is our opinion that the risk of theft or access by an unauthorized user is to great. In addition, accessing the images is typically very slow and not user friendly. Check out some of the blogs on this subject.
Q? What resolution do you recommend for scanning 35mm photo slides to digital slides?
A.  The majority of our customers select 3600 dpi for 35mm slides. This resolution gives you excellent viewing quality on a television or PC monitor and color prints can be reproduced with great results.
Q? Why should I convert my 35mm slides to digital ?
A.  The most compelling reason is to archive via slide scanning and preserve your important 35mm slides.
Q? Some of my photo slides are dark, under-exposed or in poor condition. How will slide scanning from those slides look
A.  Our process can improve in some cases the quality of under-exposed 35mm slides. However, the most realistic expectation for the 35mm slide scanning process is to preserve the current condition of the photo slide image. Our price does not include restoration for damaged film or frames needing remounting.  Not sure? Give us a call.
Q? What size slides will you process?
A.  Our service specializes in 35mm plastic or cardboard mounted slides. We can process 127mm 0r 128mm slides at a quoted price.  However, we do not accept glass frames. These type of slides require special equipment and processing. If your slides have a metal protection ring please remove before sending.
Q? What digital imaging format option do you recommend?
A.  Our scanning service recommendation is the JPEG format. JPEG is superior to TIFF for storing full-color or gray-scale images of "realistic" scenes, that means scanned photographs, continuous-tone artwork, and similar material. Any smooth variation in color, such as occurs in highlighted or shaded areas, will be represented more faithfully and in less space by JPEG. Some customers prefer TIFF or other formats for specific reasons. Please call for a quote on TIFF formats.
GET IN TOUCH... 480-207-7555
Thank you for the feedback...